September 2016 UPDATE
S.I.@Governors Island: Closing Weekend (September 24–25)
Every year, we are sad to see Governors Island's public access season close! Thanks to the wonderful staff of the Trust for Governors Island, particularly the program and events team, operations staff, ferry crew, and lovely folks at the Friends of Governors Island for everything they've done to make our work a bit easier. Thanks especially to Leslie Koch, who opened the door to us—and so many others—allowing us to share our ideas and build enthusiasm for unexpected activations of public space. After three years, we've also built strong relationships with our fellow Governors Island worker/residents (Earth Matters, GrowNYC, Blazing Saddles, Brooklyn ARTery, Figment, 4Heads, Play:Ground NYC, and others)—a true community of sympathetic souls.
On our final weekend, House 20A will host an international congress of the leaders of the parkour world, organized by Jesse Danger and Caitlin Pontrella of the Movement Creative. Attendees will discuss topics about health, education, community leadership, and active environments. The Movement Creative crew conceived and built our awesome pop-up playset, which saw people of all ages balancing, swinging, leaping, hanging, and playing all summer. As the season closes, the playset will be broken down into smaller sections and migrate to neighborhood playgrounds and schools throughout New York City.
Governors Island's stunning historic grounds provided us the chance to extend the philosophy that has guided the development of the park as a whole—to be a place for free play, wild imagination, and unrestrained activity. Looking forward to next year!
August 2016 UPDATE
S.I.@Governors Island: Spontaneous Happenings
See Calendar or email info@spontaneousinterventions.org or more information about S.I.@Governors Island's spontaneous gatherings at House 20A Nolan Park, including dance parties, concerts, idea shares, work-outs, parkour jams, and more.
Rueda at the Park. (Thanks to Bianka Furlan and Ethan Wagner!)
16 July 2016 UPDATE
Portugal Wins UEFA EURO 2016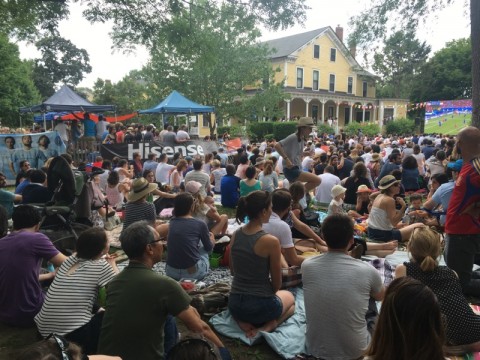 Many thanks to the sponsors and attendees of the Hisense UEFA EURO 2016 Official Viewing Zone in Nolan Park, Governors Island. We are pleased to have had such a fantastic turn-out! Many thanks to Governors Island for enabling us to transform Nolan Park's shady lawns into a Euro Cup fan zone! We'll post pictures of the event on Facebook.com/WorldCupPartyNYC. Please feel free to post your pictures to the page, or tag your photos #HisenseViewZone.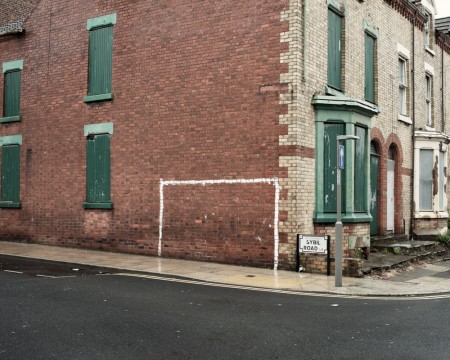 The exhibition The Beautiful Game, photographs by Simon Harsent, will remain on view through July. House 20A will be open on weekends only. Visitors are invited to enjoy the lawns surrounding House 20A, with outdoor furniture, the Imagination Playground, and  The Movement Creative's pop-up parkour playscape (see our calendar for movement workshops and parkour jams).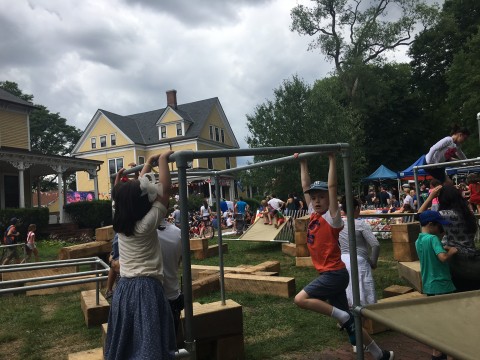 * * * * * * * * * * * * * * * * * * * * * * * * * * * * * * * * * * * * * *
FOR IMMEDIATE RELEASE
June 2016
S.I. @ Governors Island Presents
Hisense UEFA EURO 2016 Official Viewing Zone

(New York, NY) — For the third year, S.I. (Spontaneous Interventions), an ideas platform that promotes community-driven actions to improve public space, is activating a site on Governors Island, New York City's most captivating public park. A decommissioned military base, Governors Island, located in the heart of New York Harbor, has been undergoing a transformation in recent years, with a new park design by noted Dutch landscape architecture firm West 8, opened in stages beginning in 2014. The island has a unique approach to its public programming, inviting diverse cultural organizations as programming partners to bring exhibitions and events to its historic buildings and open spaces.
S.I. is proud to announce the Hisense UEFA EURO 2016 Official Viewing Zone on Governors Island (June 10 to July 10). Following the success of S.I.'s FIFA 2016 World Cup Viewing Zone—the largest public viewing event in New York City and one of the few FIFA-permitted events in the U.S.—S.I. has partnered with Chinese electronics giant Hisense and other sponsors to bring a viewing party to the lawns of bucolic Nolan Park. Hisense, known for its cutting edge entertainment technology, is a global sponsor of the UEFA EURO 2016, which is taking place in France June 10 to July 10, 2016. Courtesy Hisense, S.I.'s installation in House 20A features several state-of-the-art smart TVs to provide an indoor alternative to watch the matches. The presentation includes Hisense's ultra HD H8, H10 (check what numbers the medium and large screens are), and its newest innovation, the 4K Laser Cast Short-Throw Projector, a compact system with a 100-inch full HD screen.
The S.I. Hisense UEFA EURO 2016 Official Viewing Zone is inspired by the massive fan viewing zones that appear in capital cities all over the world during important international sporting events. All over the world, cities give over their most important public spaces—their squares, plazas, parks, beaches—into vibrant common grounds where citizens come together and share a powerful experience. Games will be broadcast live (see the attached calendar for kick-off times). Additional sponsors of the viewing zone include New York City FC and ESPN, which also sponsored S.I.'s Official FIFA 2014 World Cup Viewing Zone on Governors Island, and Carlsberg, official UEFA sponsor and supplier of the S.I. Café and Beer Garden, and BML-Blackbird, a full-service technical event production company. The event received additional support from Picture Farm Productions, Associated NYC, LES Enfants de Bohème, and M-A-D.

S.I. Official FIFA 2014 World Cup Viewing Zone, Governors Island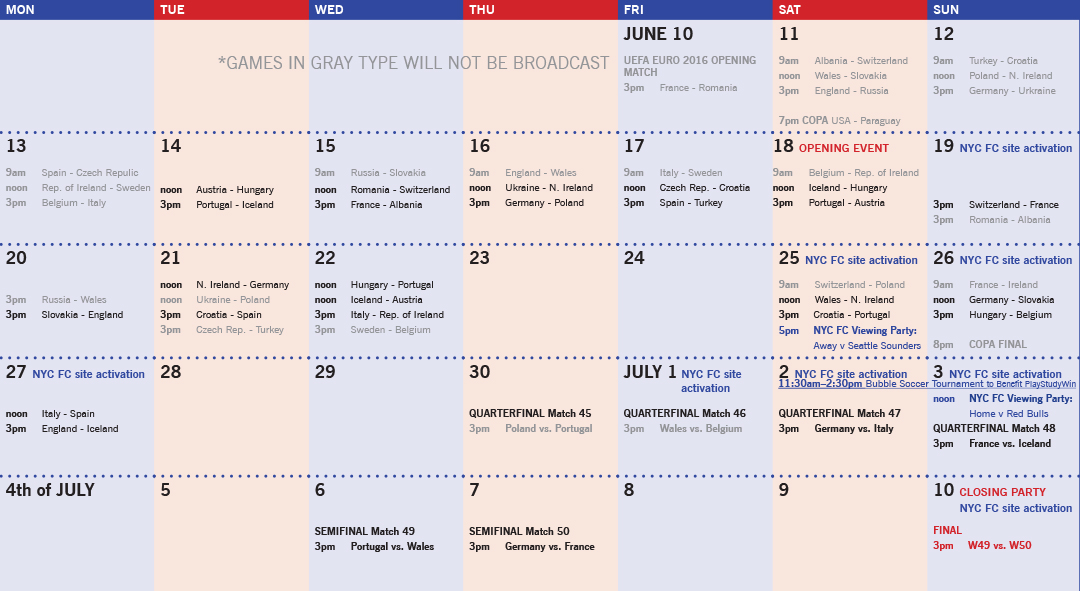 Throughout the tournament, Nolan Park will be a destination for New York soccer lovers, featuring a pop-up café and beer garden on weekends, as well as soccer fun zone sponsored by New York City FC. The fun zone will include a kicking wall, bubble soccer, player appearances, product giveaways, and more. The Hisense UEFA EURO 2016 Official Viewing Zone opened on Monday June 13. Each weekend features unique site activations, including a pop-up café and beer garden, a fun zone sponsored by New York City FC, and more. Please see the Calendar section of this website for updates about events, rain cancellations, program additions, and more. (In case of bad weather, alternative screening location: LES Enfants de Boheme, 177 Henry Street at Jefferson, Lower East Side, 10-minute bike ride from the Battery Maritime Building.)
RELATED PROGRAMS
In conjunction with the Hisense UEFA EURO 2016 Official Viewing Zone, S.I. presents The Beautiful Game, photographs by Simon Harsent, a British artist who documents football pitches around the world as everyday places (through July). Harsent's pensive photographs depict stadiums not as they are usually seen, as euphoric temples of action, but as backdrops to quotidian life.
S.I. has partnered with the Movement Creative, a nonprofit that encourages healthy interaction with our cities through parkour and movement. The group has created a playscape and is offering free movement workshops and events all summer. For more info, visit: themovementcreative.com and the calendar section of spontaneousinterventions.org.
OPENING WEEKEND
On Saturday and Sunday, June 18-19, New York City FC will invite visitors to play outdoor games, such as a kicking wall and bubble soccer. On Sunday, June 19, French footballer Frédéric Brillant, who joined New York City FC earlier this season and most recently played with Belgian team KV Oostende, will make an appearance alongside other members of the club, sign autographs, and watch the France v. Switzerland match (kick-off at 3 pm). ESPN will give away commemorative Euro Cup posters.
Opening weekend also coincides with Make Music New York's Porch Stomp, an afternoon of acoustic folk, Americana, and bluegrass music (Nolan Park, noon to 5 pm); and Punk Island, a congregation of the punk rock community, on the Parade Ground (adjacent to Nolan Park, 10 am to 5 pm). For a full schedule of other events on Governors Island, visit www.govisland.org.
Background on Spontaneous Interventions
S.I. originated as the award-winning exhibition Spontaneous Interventions, the official U.S. presentation at the 2012 Venice Architecture Biennale. S.I. has grown into an ideas platform that celebrates community-based actions to improve public space. Since 2014, it has  is now one of dozens of organizations that offers free public programs to island visitors, which last season topped 500,000. Other program partners include FIGMENT, Brooklyn Public Library, Come Out & Play, Jazz Age Lawn Party, International Center for Photography, Children's Museum of Art, New York Historical Society, and more.
Governors Island Information:
Ferries depart Manhattan (Battery Maritime Building) daily, and Brooklyn (Pier 6, Brooklyn Bridge Park) on weekends. Governors Island hosts numerous festivals and events through September 25. See govisland.com for a full schedule events and ferry schedules.
Partners and Sponsors

Special thanks to Masha Berek at the Friends of Governors Island, Blazing Saddles, the staff of the Trust for Governors Island and HMS Ferries, Steven Olken at I-MAG, and the Consulate General of France.

For more information:
Cathy Lang Ho
info@spontaneousinterventions.org
spontaneousinterventions.org
facebook.com/WorldCupPartyNYC
@S_Interventions
@Hisense_USA
#HisenseViewZone